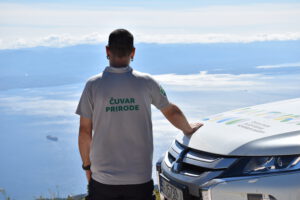 Become a ranger for a day and discover the everyday life of this unusual profession!
On a half-day tour in Učka Nature Park you will visit some of the lesser-known, and undiscovered parts of the Park, you'll enjoy breathtaking panoramic views and see some of the sights in this protected area. A tour of the Park by off-road vehicles is an exclusive attraction that is not available as part of other programs.
The tour starts in Poklon Visitor Centre at 10 a.m. and lasts about 6 hours.
As the Park is visited by off-road vehicles, the number of participants is limited (maximum 4 people and minimum 2 people). The tour is available in Croatian, English and Italian.
!IMPORTANT! The tour must be booked at least 5 days in advance. Information and reservations: info@pp-ucka.hr
Prices:
adults – 55,00 EUR (414,40 HRK)
children from 7 to 18 years – 30,00 EUR (226,04 HRK)
children up to 7 years – free of charge